Youth
Martial Arts
That Gets Results!

The PACS Young Warriors Program offers Brazilian Jiu-Jitsu focused classes for kids 6-9 (Little Warriors) and 10-13 (Junior Warriors) years of age.
In our class setting children are taught the PACS BJJ curriculum which involves fundamental takedowns, submissions, reversals, and escapes.
KEY POINTS REGARDING PACS TRAINING.
In our program, every kid gets to participate!
No child sits on the bench while favorites get all the coaches attention.
We do not charge for belt tests nor do we require kids to compete.
Every child will be treated with respect. At no time will a coach or other student use profanity or degrading language.
A high standard of conduct and discipline is expected while in the training room.
We do not mandate fundraiser activity from the parents or students.
Belt promotion is based on performance and not just showing up.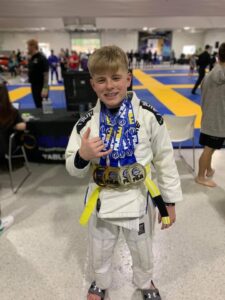 We take training youth seriously. Our kids coaches all go through an extensive PACS Instructor Training Program, and have ACT 33/34 Clearances from the Commonwealth of Pennsylvania.
If your child is interested in trying out a free class, then give us a call at (724) 420-5199 or fill out the contact form below.
Otherwise check out some of the additional content on our page or visit us on Facebook or YouTube.
PACS Young Warrior, In Action!